Owing to unexpected demand upon the author's time, Barrie Cameron has been forced to halt temporally all editing. Consequently there will be a delay to Book 2, 'Three Fates'.
However, as soon as Cameron's present urgent priorities have been addressed, he will resume editing of 'Three Fates', Book 2 of the Planetoid Trilogy.
We shall issue a further post when the situation has improved and Cameron is able to lift his delay to Book 2. We can assure you all that It remains the author's intention to complete both Books 2 and 3 as soon as he is able.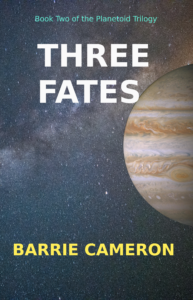 In the mean time, Book 1, 'Star Island' is available on Amazon as an E-book and paperback.