As a new independent publisher, Seaswell Publishing is pleased to present its first science fiction novel.
Planetoid Trilogy books by Barrie Cameron:
Available Now from Amazon!
Available Now from Amazon!
Available from Amazon world market sites via the following web links:
'Star Island', Book One of Planetoid Trilogy:
Links for Book One, 'Star Island'
'Three Fates', Book Two of Planetoid Trilogy:
Links for Book Two, 'Three Fates'
Available from Amazon.com via the following links:
Barrie Cameron Author page on Amazon

Seaswell Publishing links:
Planetoid Trilogy
The Planetoid Trilogy is a science fiction adventure mystery by Barrie Cameron.
Cameron has set his novel in the near future. The Earth is still threatened by global warming and other associated problems caused by recent human activity.
To add to the world's woes, we soon learn that a large asteroid from interstellar space threatens to collide with Earth. Mankind must deflect this Planetoid from its deadly course or risk massive damage to the biosphere and the destruction of human civilization.
Astrophysicist
Rebecca is a young astrophysicist who finds herself thrust into a critical role that she did not seek. She is an unlikely hero, chosen to lead the struggle to defend Earth against this imminent danger from outside our solar system.
She is joined in her adventures by other, equally unlikely, heroes. These adventurers become critical to the international plan to deflect the Planetoid. A plan that Rebecca is instrumental in leading on behalf of the Earth's governments.
The three books of Cameron's science fiction Planetoid Trilogy are:
Book One, Star Island
Star Island presents us immediately with a number of mysterious events. Through these events we become acquainted with the main characters of Cameron's story. We also learn that an object is approaching Earth from deep space. It apparently poses a threat to Earth's continued existence.
Rebecca is also on a journey of discovery, concerning her new role and her possible future. She must contend with the responsibilities and challenges of this role but also with adverse reactions to the mission from governments and pressure groups.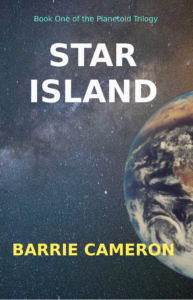 Star Island is now available in Paperback on Amazon
Star Island is now available as an Ebook, also on Amazon
Book Two, Three Fates
In Three Fates, Rebecca and her companions, plus the all important space flotilla, embark upon the mission to deflect the Planetoid.
While the Flotilla of international astronauts journey through the Solar System towards the Kuiper Belt, Rebecca must embark on her own secret mission.
During these journey's, the people back on Earth and their governments become suspicious.
The mission to deflect the large interstellar asteroid from its deadly course may not be as simple as originally believed.
Will the Flotilla, accelerating through space to meet the Planetoid, have the capability to complete its mission?
And what are Rebecca and her mysterious new friend up to?
Three Fates was released 20th April 2023.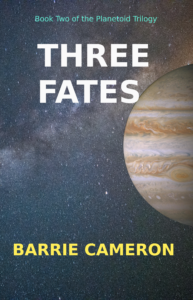 Three Fates is now available in Paperback on Amazon
Three Fates is now available as an Ebook, also on Amazon
Book Three, Phoenix
In the final part of the Trilogy, we learn who has succeeded in rendezvousing with the Planetoid. However, all is not as originally thought.
The astronauts have many adventures on the Planetoid, but will they discover its true nature? Will they find a way to save Earth?
Rebecca discovers many things, all unexpected. She meets not only Earth's doom, but her own. How will the mission be completed, if in fact it can be? Who, if any, will survive?
Phoenix is in final editing and expected to be released in 2nd half of 2023.