[ST Ref: PT-B1-C6_220802: 'Planetoid Trilogy', 'Star Island', Chapter Six: "Artume Project".]
Barrie Cameron has included a fictional space station in his science fiction novel, 'Star Island' (Book One of his Planetoid Triligy). He has located this large rotating station at the Earth-Moon L5 Lagrangian Point. He has created this L5 Space Station to provide a one g habitat and work platform to support the Artume Project's scientific laboratory base located on the far side of the Moon. As the Moon's gravity is only one sixth that of Earth, the Moon base personnel need to refresh in a one g environment from time to time. The L5 space station provides a closer and easier to access habitat for this purpose than Earth.
Most science fiction readers will be familiar with Lagrangian Points and their use for space stations, but if you need a refresher, please see the discussion below:
Lagrange, or Libration, or Lagrangian Points:
Lagrangian Points are created by two relatively massive celestial bodies. Their combined mass and relative motion orbiting about each other can effect one or more other bodies of much lesser mass that are also orbiting the two massive bodies. Refer to the Wikipedia entry: Lagrange Point, for more details.
NASA Lagrange Point References:
NASA also has several very good articles on Lagrange Points. One such article features this diagram of the Lagrangian points created by the sun and earth: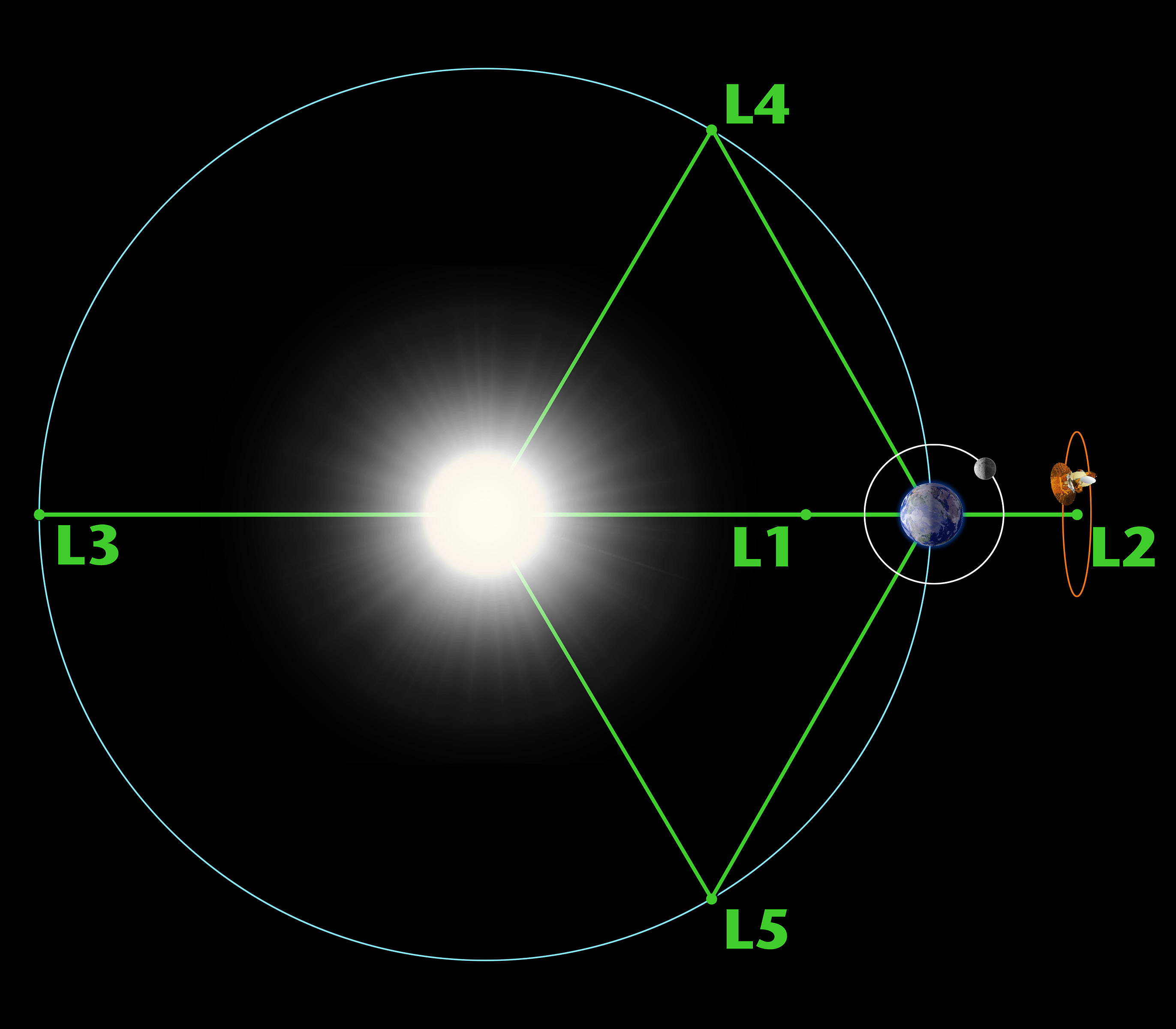 NASA proposes to use the L2 Earth-Moon Lagrangian Point for its future Gateway space station. NASA's Artemis missions will use the Gateway to service NASA's, and its international partner's, proposed moon bases.
Please note, however, that this NASA Gateway Space Station will not be located at the L2 Lagrangian Point. Instead it will be deployed into a quite complex orbit that is designed to bring the station quite close to the moon during one part of this orbit. This is to facilitate the particular requirements of the Artemis Mission.
As described on the New Atlas website, Gateway wouldn't sit at the L2 Lagrange point, but circle it every six and a half days in a complex 3D orbit called a Near Rectilinear Halo Orbit (NRHO). This Halo Orbit would bring the Gateway space station to within 1,000 miles (1,600 km) of the Moon's North Pole on its near pass and 43,500 miles (70,000 km) from the South Pole at its farthest as it traces a trajectory like a lopsided halo. See further comments here. This orbit would enable the station to have unobstructed views of Earth and the Moon, unlike an orbit located at L2.
Joseph-Louis Lagrange.
Lagrange Points are named in honour of the Italian-French mathematician Joseph-Louis Lagrange.
The Brittanica article explains that Lagrange made great contributions to number theory and to analytic and celestial mechanics.
A very interesting YouTube video of the life and work of Joseph-Louis Lagrange can be found here.