'Three Fates', Book Two of 'Planetoid Trilogy':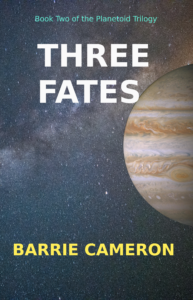 New publication date for 'Three Fates' – end of September 2022:
We have posted the new publication date for 'Three Fates' to correct our original estimate of July 2022. The original three months delay following the release of 'Star Island' has proved to be overly optimistic. Both we and the author apologize for the additional delay.
However, we hasten to add that this new publication date will be subject to satisfactory editing progress. As Barrie Cameron has told us, 'It will be ready when it is ready'. We agree: the writing of a book cannot be rushed, and thorough editing is very much an essential part of writing a book.
'Phoenix', Book Three of 'Planetoid Trilogy':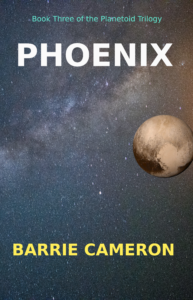 We will consequently also be delaying the publication of the third book in the Cameron's trilogy, 'Phoenix' . It is now expected to be published sometime in the first quarter of 2023.
'Star Island', Book One of 'Planetoid Trilogy':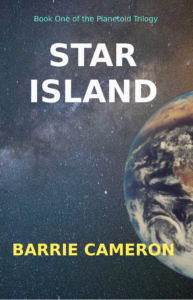 'Star Island', Book One of 'Planetoid Trilogy', was published on Amazon in April 2022. It is available as a Kindle E-Book and as a print on demand Paperback.
History of the writing of the 'Planetoid Trilogy':
Barrie Cameron began writing his 'Planetoid Trilogy' in January 2020. He made relatively rapid progress, with the first drafts of all three books written by May 2021. Subsequently, he began the usual extensive editing of all three books. By March 2022, he had completed final editing of 'Star Island'. Then, following completion of the final design and formatting of the paperback book's interior and cover, Seaswell published 'Star Island' in April 2022. Publication of the Kindle E-book followed soon after.
The editing continues…
Cameron's editing of the other two books of the Trilogy will be as extensive and as thorough as that of his first book. However, each book is a project in its own right and the time required to complete each may vary.
We will keep you updated on the publication dates for 'Three Fates' and 'Phoenix' in future progress reports