Book Two, 'Three Fates':
Seaswell Publishing are pleased to report the latest news on Book Two of Barrie Cameron's 'Planetoid Trilogy'. Editing is in progress on 'Three Fates'.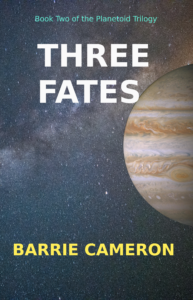 'Three Fates' continues the story begun in the first book of the Trilogy, 'Star Island'
Book One, 'Star Island':
'Star Island' is already available from Amazon in E-book and POD paper-back.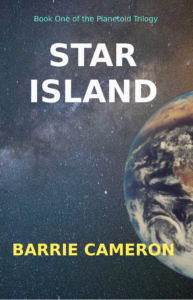 We first meet our adventurers on Earth in Book One, 'Star Island'.
In Book Two, 'Three Fates', we follow them out into deep space to encounter the Planetoid.
'Three Fates' is in pre-publish:
Barrie Cameron is currently pre-publish editing the draft manuscript of 'Three Fates'.
Cameron edits his manuscripts iteratively. Each editing pass includes all chapters. Once these pre-publish edits are completed, a final series of publishing edits is conducted.
The story continues…
In 'Three Fates', the all important space flotilla of international astronauts embark upon the critical mission to prevent the Planetoid from colliding with Earth.
While the Flotilla is journeying through the Solar System towards the Kuiper Belt, our adventurers must embark upon their own secret mission.
During these journey's, some people back on Earth are becoming suspicious.
The mission to deflect the large interstellar asteroid from its deadly course may not be as simple as first believed.
Will the Flotilla have the capability to complete its mission?
And what are our space adventurers up to?
And what of the mysterious stranger?
'Three Fates' Publishing date:
At this time, 'Three Fates' looks good for release in July 2022.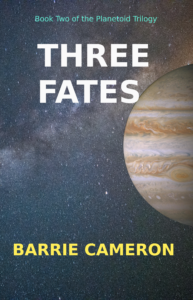 Book Three, 'Phoenix':
Barrie Cameron will begin pre-publish editing of the draft manuscript of Book Three, 'Phoenix', as soon as 'Three Fates' has been released.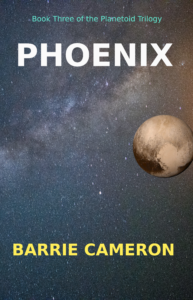 'Phoenix' is the final part of the Trilogy. In 'Phoenix', we learn who has succeeded in rendezvousing with the Planetoid.
Our heroes have many adventures on the Planetoid, but will they discover its true nature?
Will they find a way to save Earth?
Our adventurers discovers many things, all unexpected. They meet not only Earth's doom, but their own.
How will the mission be completed, if in fact it can be?
Who, if any, will survive?