COVID
Author, Barrie Cameron, goes down with COVID while traveling in the North Island of New Zealand. COVID Causes Podcast Change.
While he has now recovered from COVID, this event has forced Cameron to rethink his plan for a Podcast. He still plans to launch the Podcast but only after he has finished editing 'Three Fates' and 'Phoenix'. Finishing and publishing the 'Planetoid Trilogy' has always been his priority, but the COVID interruption caused him to refocus exclusively on finishing the editing. The Podcast will be launched to assist promotion of the three books but only after they are all available.
COVID causes change of plan with Podcast
It was not just the temporary effect on his voice from being sick with COVID that had prompted Barrie Cameron to rethink launching his Podcast in January 2023. The several days of isolation kicking his heels in a motel during the first two weeks of January 2023 gave him time to reflect upon the original plan. Recording weekly episodes of the Podcast would significantly reduce the rate of progress with the remaining two books' editing. Better to concentrate on the editing and complete the two remaining books of the Trilogy. Then he would be able to concentrate on the marketing, including regular posts on the Blog and weekly Podcasts.
'Star Island', Book 1 of 'Planetoid Trilogy'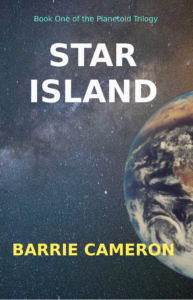 Cameron's first novel, Book 1 of the Planetoid Trilogy is avaliable as E-book and Paperback on Amazon.