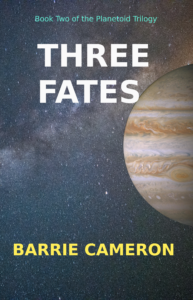 Three Fates First Iteration Edit
Barrie Cameron has completed the Three Fates first iteration edit. He has now started the second iteration and is on track to complete this early in 2023.
Three Fates First Iteration Edit Complete
In November 2022, Cameron finished the first iteration edit of Three Fates. He is now launching into the second iteration edit. The first edit iteration checked mainly the technical aspects of the draft: spelling, grammar, style, and consistency of plot, themes, and character arcs. The second iteration will focus on developing description and atmosphere, and include a second pass check of spelling and grammar,
Three Fates
In Three Fates, the second book of the Planetoid Trilogy, the companions, plus the all important space flotilla, embark upon their mission to deflect the Planetoid.
While the Flotilla of international astronauts journey directly through the Solar System towards the Kuiper Belt, our heroine must first embark on her own secret mission.
Both expeditions experience challenging incidents and events, while at home on Earth tensions are rising.
Planetoid Trilogy
The Planetoid Trilogy includes three science fiction novels, Star Island, Three Fates, and Phoenix.
Star Island
Star Island, Book 1, presents us immediately with a number of mysterious events. Through these events we become acquainted with the main characters of Cameron's story. We also learn that an object is approaching Earth from deep space. It apparently poses a threat to Earth's continued existence.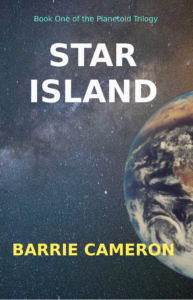 The Earth is already threatened by global warming. The large asteroid from interstellar space will only add to the world's woes. Mankind must deflect this Planetoid from its deadly course or risk massive damage to the biosphere and the destruction of human civilization.
A young astrophysicist finds herself thrust into a critical role that she did not seek. She is an unlikely hero who is chosen to lead the struggle to defend Earth against this imminent danger from outside our solar system.
She is joined in her adventures by other, equally unlikely, heroes. These adventurers become critical to the international plan to deflect the Planetoid. A plan that our heroine is instrumental in leading on behalf of the Earth's governments.
Our heroine must contend with the responsibilities and challenges of her new role but also with adverse reactions to the mission from governments and pressure groups.
Phoenix
In Phoenix, Book 3, the final part of the Trilogy, those who have succeeded in rendezvousing with the Planetoid must attempt to take control of it.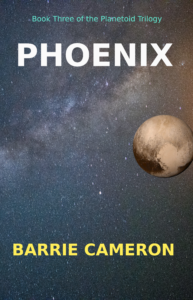 The astronauts have many adventures on the Planetoid, but will they discover its true nature? Will they find a way to save Earth?
Our heroine discovers many things, all unexpected. She meets not only Earth's doom, but her own. How will the mission be completed, if in fact it can be? Who, if any, will survive?